Posted:
September 2nd, 2009 |
Author:
Chuck Miller
LPM14 (La Part Maudite on 14th) is evolving into a prototype web-app that will enable individuals to access a real-time quantification of a reasonable estimate of the energy consumed / wasted and trash produced by a given building, while in its presence. Congruent to the phenomenological immediacy of standing before the façade of a building, this quantification was determined with use of publicly accessible data sets, particularly those available via simple Google searching (We might note that if traditional phenomenology deals with immediate, physical experience, we could argue for a 'media' or 'data' phenomenology that would deal with the amount of information or data publicly and immediately available about a given entity). The short answer to the question whether there does indeed exist accurate real-time public information about energy consumption and waste-production on the scale of a discreet piece of architecture is: NO. In the case of LPM14, our case study is the Zeckendorf Towers, otherwise known as 1 Irving Place, or rather, that big brick conglomerate with the escalators that never work to the Union Square subway station—where there's the Starbucks, the Game Stop, the Food Emporium, etc. At the pedestrian level, one rarely (not that one necessarily should) makes the connection that this is the same building that contains the Beth Israel Phillips ambulatory care center, as well as 4, 22 floor (not counting the 5 floors of commercial space that occupy the entire footprint of the building), glass-glowing-pyramid topped condo towers. In such a "mixed-use" mega-shell, each individual entity, be it a condo, a retail space, or a grocery store, runs on its own meter: there is no one, gauged, mother-input that consolidates and measures the consumption of the total building. Furthermore, it is neither the responsibility of, nor is it even legal for, the service provider (ConEd and Keyspan) to provide information concerning the consumption rates of their clients to a third party. The establishment in question would have to agree to the release of that information, and were this the case, would release it themselves, rather than involving the service provider. As such, the research methodology for those who have collected and logged data concerning the consumption rates of certain establishments have done so in a consent and questionnaire format. There has not been, to our knowledge, and incidence of a researcher installing a networked "gauge" for the interests of the researcher alone (unless that researcher is approved of by the establishment, and has consented to the latter's confidentiality) moreover it is the establishment looking for ways that it wastes energy, when its peak consumption is, etc. so that it may deploy this knowledge to mitigate expense. Were an energy audit required for the purposes of ensuring compliance with environmental regulations, it would imply that the gathered information is public, however and energy audit is presently a purchased service.
These circumstances rule out several ideal possibilities for the purposes of LPM14 as a highly accurate system: first, the condition that the information be public, second, that the information be reliably updated (or even sensor-updated) and finally, that there exists and indiscriminate record of this information all city-occupying establishments. At this, we have, with some confidence, assumed that the exact information we are looking for does not exist, that we cannot simply aggregate pedantic public data into a more graphically compelling and layman-digestible interface. An indirect approach, involving some of our own analysis, correlation, and estimation, shall be necessary.
-An Analogous Process-

Source: http://upload.wikimedia.org/wikipedia/commons/c/cf/Zeckendorf_Towers_-_NYC.jpg
textures mapped from photo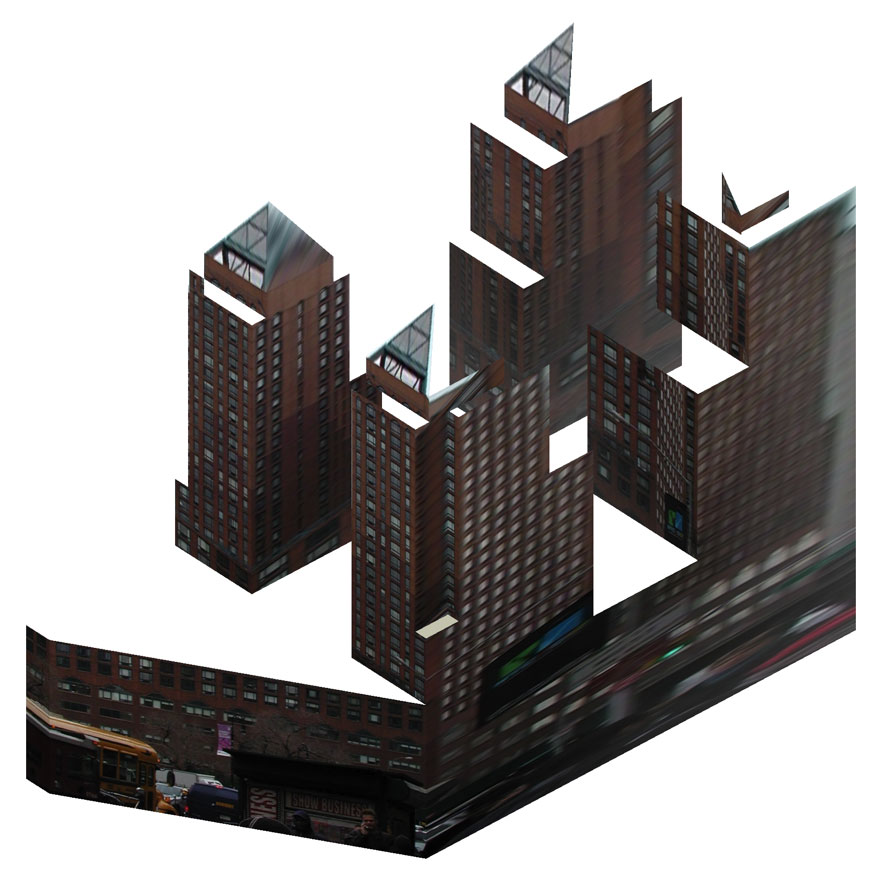 Isometric
Front
Left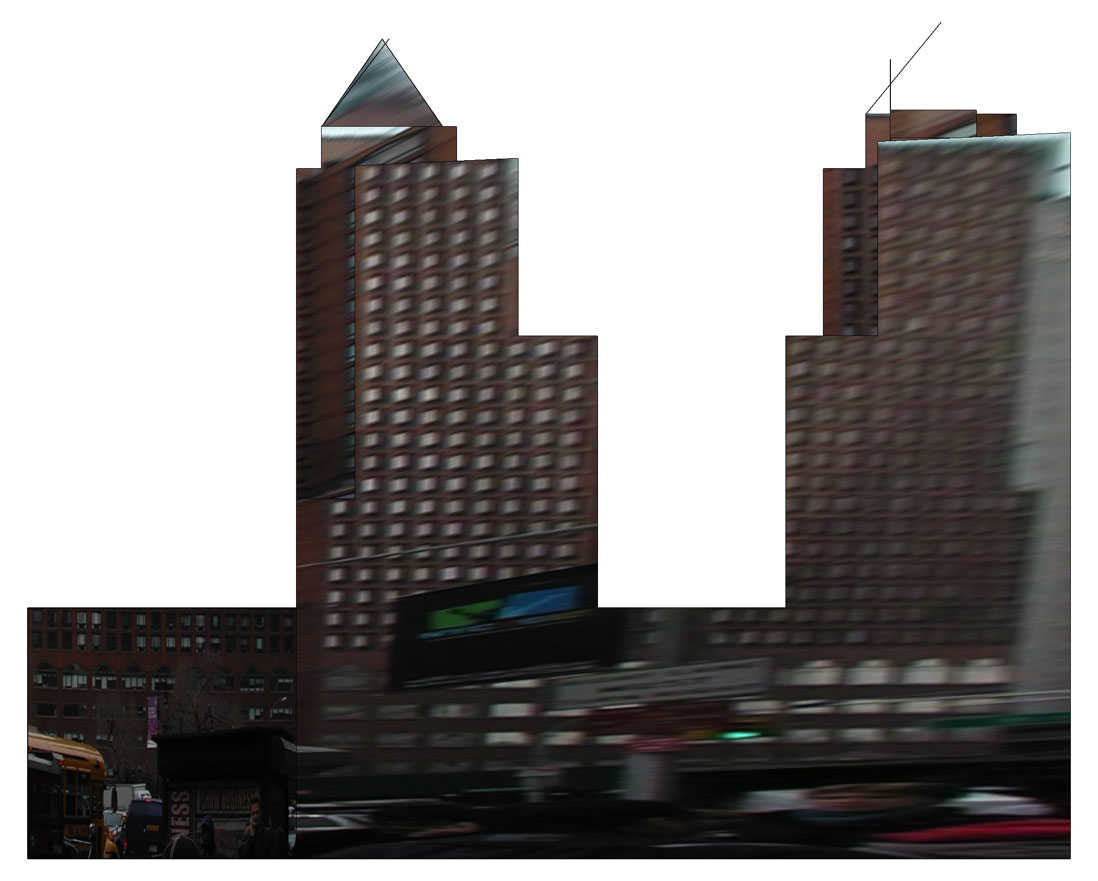 Right
Top
---